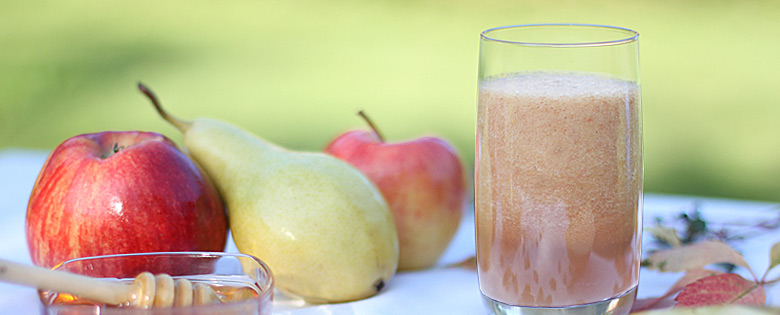 Autumn shake with apple, pear & honey
Apples, particularly the old garden types, are rich in important mineral substances such as potassium which supports the metabolism of the nerves and muscles. They contain a lot of vitamin C, and pectin which aids digestion. Pears contain fewer important mineral nutrients than apples, but also less acid. Therefore, this combination is healthy and enjoyable even for people who are sensitive to acidity. Furthermore – the vitamins are situated directly under the skin, so you should not peel the fruits.
Preparation:
Wash and core the apples and pears and finely purée them with their skins intact in a blender at a high-speed setting. Open the cardamom pods, remove the seeds and finally crush in a mortar. Add a pinch of cardamom to each glass and a teaspoon of honey, then purée again. If you'd prefer this mouth-watering drink to be somewhat thinner, add some organic apple juice as required or some water to reduce the acidity content.
Serve at room temperature.
Ingredients
1-2 fresh organic apples
1-2 fresh organic pears
honey
cardamom pods