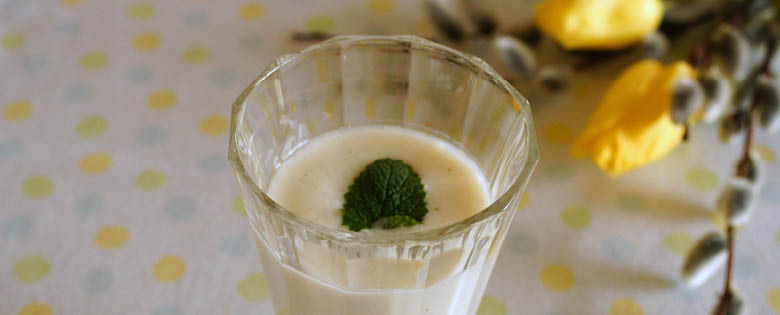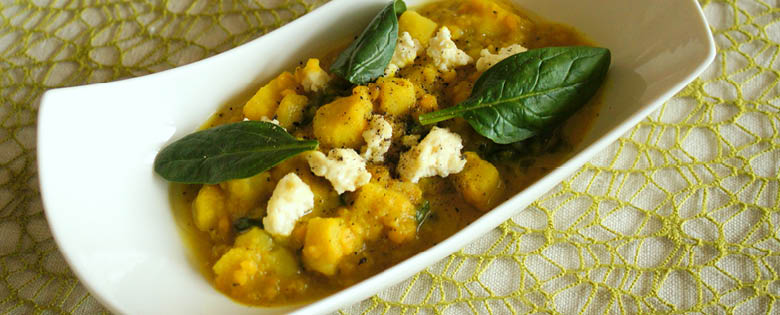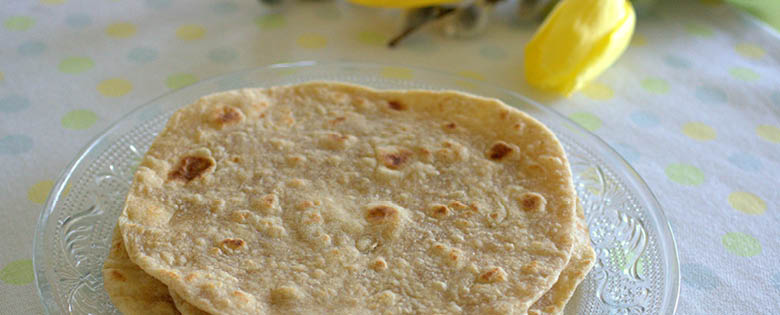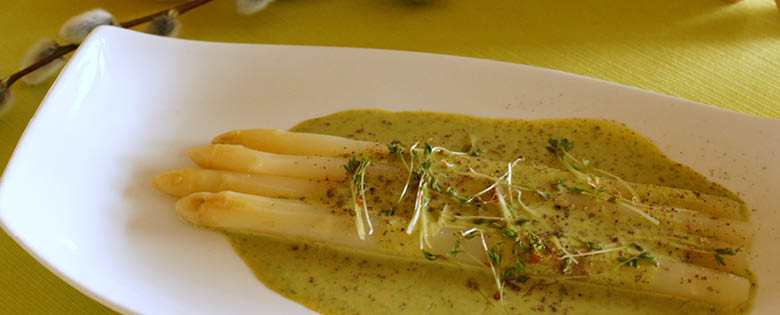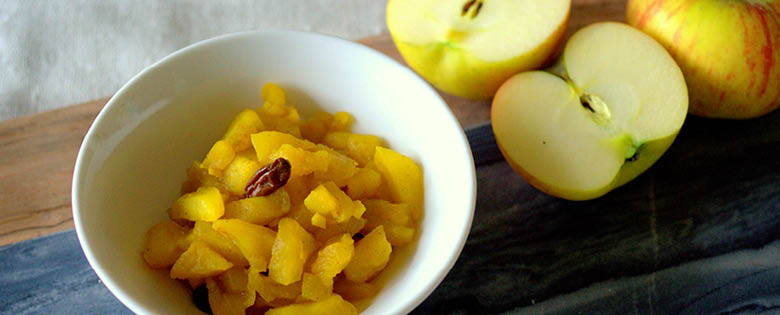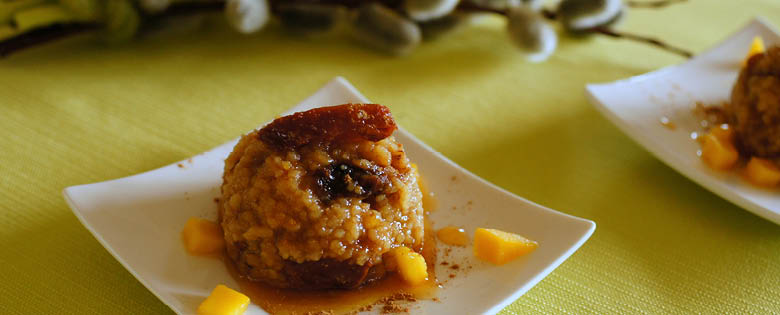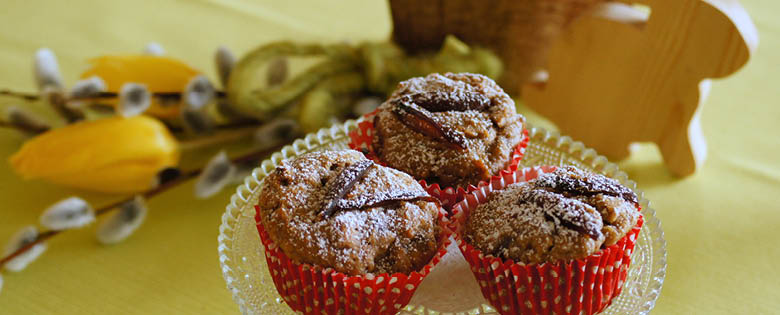 Serves 4
Lemony spice lassi
250 g yoghurt
300 ml warm water
1 tsp grated lemon zest
2 tbsp sharkara
¼ tsp ground cardamom
¼ tsp ginger powder
1 pinch pure vanilla powder
1 pinch ground cloves
2 leaves dried lemon verbena
Red lentil potato risotto
350 g mostly waxy potatoes
100 g red lentils
1 handful fresh baby spinach
1 tsp ground coriander
1 tsp turmeric
½ tsp fenugreek seeds
½ tsp black pepper
1 pinch asafoetida
2 bay leaves
1 clove
1 cm cinnamon stick
350 ml vegetable broth or water
1 tsp raw cane sugar
1 tsp each of lemon zest and fresh lemon juice
1 tbsp ghee
Paneer
1 L milk
1 lemon
1 tsp salt
Chapati
Asparagus
500 g white asparagus
Water
1 tbsp lemon juice
1 tsp raw cane sugar
1 pinch salt
Cress mousse
1 tbsp ghee
2 heaping tbsp chickpea flour
½ tsp ground coriander
¼ tsp turmeric
¼ tsp black pepper
300 ml vegetable broth or water
1 bunch fresh organic garden cress
1 tbsp crème fraîche
1 pinch of raw cane sugar
Apple chutney
2 sour apples
½ tsp turmeric
½ tsp cardamom
2 cloves
2 cm fresh ginger
1 pinch star anise
1 pinch chili powder
1 tbsp raw cane sugar
1 tbsp raisins
1 tbsp water
1 pinch salt
Fruity couscous
350 ml pear juice
1-2 tbsp sharkara
1 cinnamon stick
3 cloves
5 saffron threads
70 g whole grain couscous
100 g mixed dried fruits (apricots, raisins, plums, apples)
Juice of one lemon
Date spice muffins
100 g fine-ground spelt flour
50 g wholemeal spelt flour
2 tsp baking powde
r50 g raw cane sugar
12 dried dates
Juice and peel of half an orange
100 ml apple sauce
50 ml buttermilk
50 g ghee
1 tsp ground cardamom
1 tsp ground cinnamon
1 pinch allspice
1 pinch ginger powder
1 pinch salt
Millet buttermilk scones
150 g fine-ground spelt flour
50 g millet flour
1 tsp baking powder
1 tsp raw cane sugar
¼ tsp salt
1 tbsp ghee
120 ml buttermilk
Ginger rhubarb jam
250 g fresh rhubarb
3 cm fresh ginger
100 g raw cane sugar
½ tsp agar-agar
1 pinch pure vanilla powder
Ayurvedic Easter Brunch
Are you still looking for a special idea for Easter? How about a relaxed ayurvedic Easter brunch? Enjoy the culinary diversity of ayurvedic cuisine with your family and friends on this special day. Our Austrian ayurvedic cook Heide Maria Vendler has already planned the Easter brunch dishes for you!
You and your guests can look forward to these ayurvedic delicacies: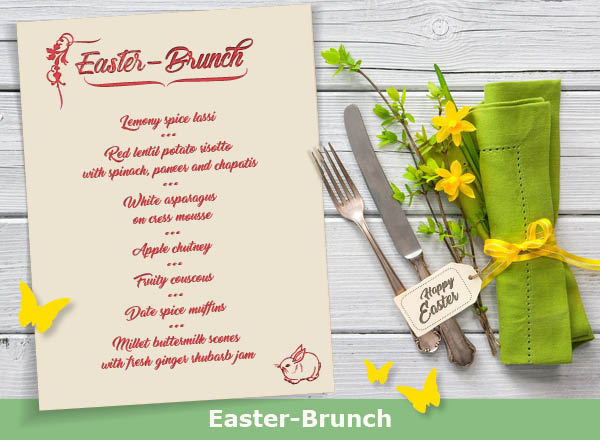 Whether you have a sensitive sweet tooth or you've had one too many Easter treats, we suggest having a cup of Digest Plus Tea about one hour before or after eating.

Surprise the coffee lover amongst your guests with a cup of Raja's Cup – a caffeine-free, yet pleasantly reviving alternative to coffee. Highly popular and easy on the stomach, this coffee substitute is available in convenient tea bags or as a powder. Whether your guests want a simple coffee, a cappuccino or an espresso, Raja's Cup powder does the trick. Find out here what other fine Raja's Cup specialties you can create!
Lemony spice lassi
Preparation
Finely grind the dried verbena leaves and mix together with the rest of the ingredients. Mix the refreshing lassi well with a hand blender or a whisk.
Red lentil potato risotto with spinach, paneer and chapatis
Red lentil potato risotto
Preparation
Peel potatoes and cut into 1 cm cubes. Wash the lentils and drain in a sieve. Finely crush the fenugreek in a mortar. Heat ghee in a pot. Add the potato cubes and spices and lightly roast. Then add the lentils and raw cane sugar and continue to roast for 2 minutes. Pour in the vegetable broth or water and bring to a boil. Reduce heat, cover and let simmer for 15-20 minutes. Once the potatoes and lentils are soft, add the washed spinach. Add lemon juice, lemon zest and salt to taste. Those who like it spicy can add a pinch of chilli powder.
Paneer (mild fresh cheese)
Preparation
Squeeze juice out of lemon. Rinse a pot with water. Heat milk and salt in pot. Slowly stir in the lemon juice before bringing to a boil. In doing so, the milk curdles, i.e. protein and whey separate. Spread a cloth over a sieve and set on a bowl. Then pour the contents of the pot into the sieve so that the cheese curds gather in the cloth and the whey flows into the bowl. Allow the paneer to drain into the bowl for at least half an hour. Your cheese is ready!
Chapati (ayurvedic flatbread)
Preparation
Knead the ingredients into a smooth dough that can be easily flattened. Let it sit for half an hour. Then, on a flour-dusted work surface, cut walnut-sized pieces from the dough and roll into balls. Cover with a damp towel and heat a pan (high level). A heavy cast-iron pan works best for this, since the dough is fried in the pan without oil. Flatten the dough into a thin flatbread (you can use a generous amount of flour for this), and place it into the hot pan. Pay careful attention to the next step so that the dough doesn't burn. Here, practice makes perfect. When the dough is in the hot pan it should bulge and bubble. Gently press these down with a cloth. After approximately 1 minute flip the flatbread and gently press it down again. The more the chapatis rise, the softer and looser they will get. Lay the flatbread on a plate, cover with a damp cloth and keep warm. Fry the pieces of flatbread one by one. It is important to wipe the flour out of the pan with a cloth in between each flatbread.
Serving
Serve the red lentil and potato risotto with fresh herbs and either paneer or a dollop of crème fraîche. Offer chapatis with it.
White asparagus on cress mousse
Asparagus
Preparation
Peel asparagus. In a wide pot fill water up to 2 cm high. Add lemon juice, sugar and salt and bring to a boil. Add the asparagus, cover the pot, and, depending on size, cook for 8-10 minutes until al dente.
Cress mousse
Preparation
Lightly heat the ghee. Slowly roast the chickpea flour in the ghee until a subtle aroma fills the air. Add spices and sugar and roast again for a couple of seconds. Add broth or water. Stir well using a whisk and bring to a boil. Reduce heat and let simmer for approximately 10 minutes until the mixture turns into a creamy sauce. Stir repeatedly. Cut the cress with scissors and add to the sauce. Purée in a blender or with a hand blender until smooth. Stir in the crème fraîche and add salt to taste. Heat again but don't boil.
Serving
Remove asparagus from broth and serve with cream of cress.
Apple chutney
Preparation
Peel apples and cut into small cubes. Finely grate or cut the ginger. Put all ingredients into a small saucepan and lightly stew for 10-15 minutes.
Fruity couscous
Preparation
Chop the dried fruit and marinate in lemon juice. Bring pear juice, sugar and spices to a boil. Let sit for at least a half hour so that the spices can release their full aroma. Strain the fruit and bring the broth to a boil again. Add the couscous and marinated dried fruit. Let simmer for a few minutes. Reduce heat to the lowest level and let the couscous steam while covered for approximately 10 minutes. It should be very juicy. Add more water or juice if required and sweeten to taste.
Serving
Fill couscous into small bowls, sprinkle with a little cinnamon and garnish with pomegranate seeds.
Date spice muffins
Preparation
Finely chop the dates and marinate in orange juice for 15 minutes.
Heat ghee in a small pot until liquid. Mix both flours, baking powder, sugar and spices in a large bowl. Mix in the rest of the ingredients leaving aside a tablespoon of the chopped dates for use as garnish. Pour the dough into 8 paper muffin cups with a diameter of 45 mm. Spread some of the date pieces that were set aside on top. Preheat the oven to 170 degrees and bake for 20 minutes.
Millet buttermilk scones with fresh ginger rhubarb jam
Millet buttermilk scones
Preparation
Mix flours, baking powder, sugar and salt. Work in the ghee and buttermilk and knead into a soft dough. Let sit for half an hour. Knead briefly and roll dough out into a 2-3 cm thick round. Cut out circles using a cookie cutter (6 cm diameter). Brush on some water, preheat oven to 200 degrees (convection) or 220 degrees (top and bottom heat), and bake for 12-15 minutes.
Ginger rhubarb jam
Preparation
Cut rhubarb into small pieces. Finely grate ginger. Let all ingredients simmer gently in a saucepan for approximately 10 minutes.

Serving
The scones taste best fresh from the oven served with a bit of mascarpone and fruit jam.