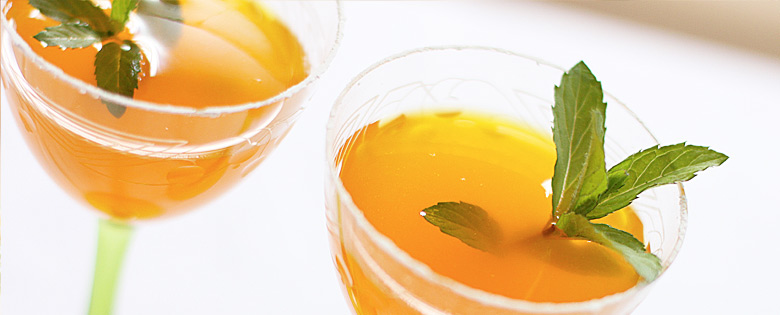 Celebration menu Entrée: Yoghurt apéritif
In a jug, whisk the grape juice with the saffron threads steeped in 1 tbs hot water, the ginger juice, the almond powder and, if you are using it, the rosewater, and leave in a cool place.
Dampen the rim of chilled champagne glasses with water, then sprinkle with the coconut milk powder and garnish with a fresh sprig of mint. Fill with the juice and serve.
from Dr Ernst Schrott/Cynthia Nina Bolen: The delicious cuisine of Ayurveda
Ingredients (4 persons)
400 ml white grape juice
1/2 tsp saffron threads, crushed
3 tsp fresh ginger juice
1/4 tsp Ayurvedic almond powder
1-2 drops rosewater (to taste)
2 tbs coconut milk powder
Sprig of mint