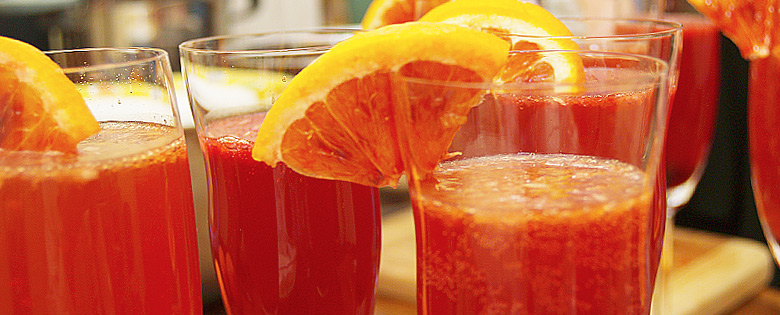 Sparkling fruity Easter cocktail
A beautiful cocktail for a banquet with friends and family. As a sparkling-sweet drink that stimulates the taste buds, or as the crowning glory of a magnificent menu. Created by the ayurvedic chef Frank Lotz for the winners of our Ayurveda Health Day with Kalyan Vaidya from Bad Ems. Of course, alcohol-free and wonderfully delicious.
Pour 10-20 ml pomegranate syrup into a cocktail glass. Add about the same amount of freshly pressed orange juice and a pinch of finely chopped ginger. At the same time, mix together the elderflower lemonade with the mineral water. Fill the cocktail glass with the elderflower and mineral water mixture, and decorate with a slice of orange.
If you are making several portions, first pour the syrup, orange juice and ginger into all the glasses. Then fill them all up with the lemonade and water mixture, and serve. The cocktails will taste delicately sparkling.
Ingredients
Pomegranate syrup
Juice of 1-2 organic oranges
1 bottle of elderflower lemonade
1 bottle of mineral water (sparkling)
Fresh ginger, chopped fine