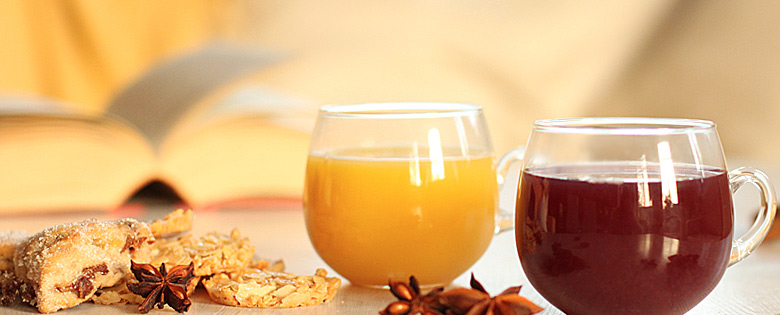 Winter punch
Fruity, spicy punch to give a warm comfortable feeling on cold days. Something to enjoy especially after a long walk in the fresh winter air, or at a pleasant gathering of friends and family.
With fresh juices and two "superstars" of Ayurvedic cuisine: cinnamon and cloves. Both are known for their broad range of positive effects. Scientific studies show for example that cloves are among the best natural antioxidants, and cinnamon strengthens Agni the digestive fire.
So our winter punch not only tastes delicious, but also contributes to your well-being.
Winter punch
In a covered pan, heat the grape juice with the spices and zest, for about 30 minutes (take care not to let it boil), then let it stand for 10 minutes, and pour it through a strainer.
Or try this variation:
Orange Punch
Put all the ingredients in a saucepan and bring to a full boil, then turn the temperature down and simmer for about 5 minutes, to dissolve the sugar and allow the spices to unfold.
Taste it, and if necessary add more sugar and/or spices.
Ingredients
Winter punch
1 litre of red grape juice
6 cloves
Juice of one orange
3 cinnamon sticks
Zest (thin strips of the outer skin) of untreated lemon and orange
4 oz maple syrup
Orange Punch
750 ml orange juice
200-250 ml apple juice (look for low acidity)
4-5 pieces of star aniseed
4-5 pieces of Cassia cinnamon or Ceylon cinnamon
6-8 cloves
Seeds from 2 cardamom pods, ground with a mortar
3 tablespoons cane sugar