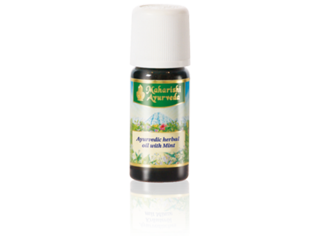 On Sale:

Ayurvedic herbal oil with Mint
Product No.: 040634, 10 ml
Pure essential oil with a fresh fragrance from camphor, mint, eucalyptus, clove, fennel, cinnamon and ajowan (wild celery seed).
Ayurvedic herbal oil can be used in many different ways: in addition to its capacity as a refreshing, Kapha-reducing aroma oil, the oil releases pleasant, cleansing aromas when it is rubbed in. One or two drops on the temples can be extremely beneficial in tense situations. This oil is also good for massaging the muscles and joints. Two to four drops in a glass of hot water help alleviate any discomfort after eating exotic food. A true all-rounder and a treasure when travelling!
Directions:
Pure natural vegetable oil. In addition to its use as aroma oil, it can also be used in diluted form as a massage oil. Massage gently into the skin, on the temples, chest, neck, or abdomen. For diluting, add one drop of Ayurvedic Herbal Oil with Mint to at least 20 drops or half a teaspoon of vegetable oil, preferably sesame oil.
Do not use undiluted.
Avoid contact with the eyes and mucous membranes.
Not suitable for children.</p
Ingredients:
Camphor, Mentha piperita oil, Thymol, Foeniculum vulgare oil, Eugenia Caryophyllus flower oil, Eucalyptus globulus leaf oil, Cinnamomum zeylanicum bark oil, Eugenol*, Isoeugenol*, Cinnamal*, Linalool*, Coumarin*, Benzyl benzoate*.
*from real essential oils
Some aspects of Ayurveda knowledge are based on principles and perspectives that differ from Western science as we know it, so please read the important information we have compiled to help you.
For a detailed ingredients list and dosage of each product, please look under the specific product.