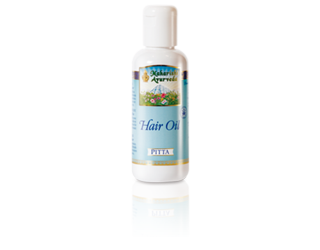 On Sale:

Pitta Hair Oil, 150 ml, CNC
Product No.: 170207, 150 ml
Precious hair oil for fine and red hair as well as sensitive scalp. Gently massaged in before washing the hair, a sheer delight for your hair. Helps to reduce Pitta.
Ayurveda recommends regular oil massages for the hair to provide intensive care, improve blood circulation to the scalp and strengthen the roots of the hair. Allow to penetrate for a few minutes or overnight and wash out with Pitta shampoo.
BDIH/ Cosmos Organic seal for certified natural cosmetics.
Directions:
For normal to fine hair
Ripened sesame oil with specially selected herbs. Gives fullness and lustre. Warm the oil and apply thoroughly, at least 30 minutes before washing hair.
Ingredients:
Sesamum indicum seed oil1, Santalum album wood extract, Rubia cordifolia root powder, Centella asiatica extract, Eclipta alba extract, Curcuma longa rhizome powder, Hibiscus rosa sinensis flower extract, Symplocos racemosa bark extract, Cyperus scariosus root extract, Mimosa pudica extract, Nymphaea stellata flower extract, Santalum album wood extract
1 Certified organic agriculture
Do not use during pregnancy or while breastfeeding
Some aspects of Ayurveda knowledge are based on principles and perspectives that differ from Western science as we know it, so please read the important information we have compiled to help you.
For a detailed ingredients list and dosage of each product, please look under the specific product.