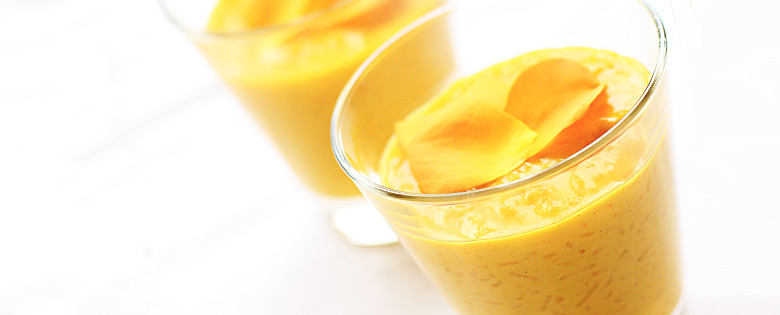 Celebration menu dessert: Kheer (saffron and rosewater dessert)
Steep the saffron threads in 4 tbs hot water for approx. 60 minutes. Soak the washed Basmati rice for 5-6 hours.
Pour 5 tbs water into a pan (so that the milk doesn't burn), add the cream and milk and bring to the boil whilst stirring constantly. Add the saffron (including the steeping water), cardamom and rice. Cook at a low heat for 20-30 minutes until the rice acquires a slight pudding-like consistency. Keep stirring throughout and add the cane sugar.
Allow the rice pudding to cool (remove the cardamom pods if necessary) and finish with rosewater. Pour into a serving dish and garnish with real rose blossom, then serve.
from Dr Ernst Schrott/Cynthia Nina Bolen: The delicious cuisine of Ayurveda
Ingredients (4 persons)
1/2 tsp saffron threads
1/4 cup Basmati rice
2 1/2 cups cream
1 1/4 cups milk
1 tsp ground cardamom or 2-3 whole cardamom pods, unpeeled
1 cup cane sugar or Sharkara (Ayurvedic sugar alternative)
1 tsp rosewater
Rose blossom to garnish