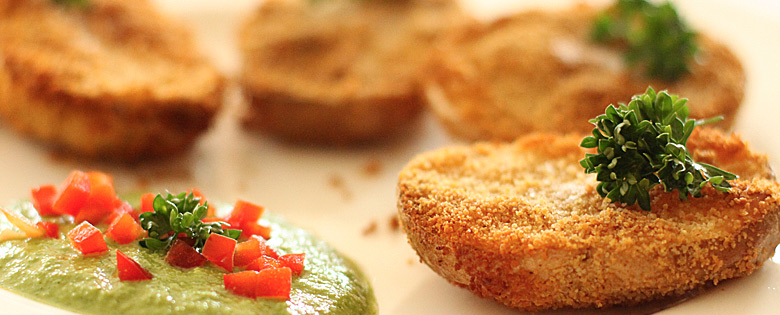 Celebration menu Starter: Spiced grilled potatoes with coriander dip
Potatoes:
Wash the potatoes thoroughly and cut in half. Dry fry the cumin lightly. Mix the spelt breadcrumbs, ground cumin and salt. Coat the potato halves with melted ghee and roll in the breadcrumb mixture. Bake on a baking tray for 40-50 minutes until the potatoes are cooked through. Sprinkle each potato with a pinch of salt and parsley and serve hot or cold.
You can add other herbs to the breadcrumb mix according to taste, such as rosemary, thyme, fennel seeds or sesame seeds.
Coriander dip:
Put all the ingredients (apart from the salt and peppers) in a blender, blend to a smooth puree and season with salt to taste. Pour into a serving dish (or next to the potatoes on a plate), garnish with the finely diced peppers and serve.
from Dr Ernst Schrott/Cynthia Nina Bolen: The delicious cuisine of Ayurveda
Ingredients (4 persons)
Potatoes:
4-6 medium-sized, unpeeled potatoes (approx. 1 ½ per person)
1 tbs ground cumin
3/4 cup spelt breadcrumbs
1 tsp salt (to taste)
Ghee
Fresh, chopped parsley
Coriander dip:
1 1/2 cups fresh coriander, chopped
3 tbs fresh ginger, peeled and chopped
1 tbs fresh lemon juice
1/4 cup mint leaves
2 tbs cane sugar or Sharkara (Ayurvedic sugar alternative)
3 tbs organic yoghurtt
3 tbs fresh coconut, grated
Salt (to taste)
Red peppers, finely chopped