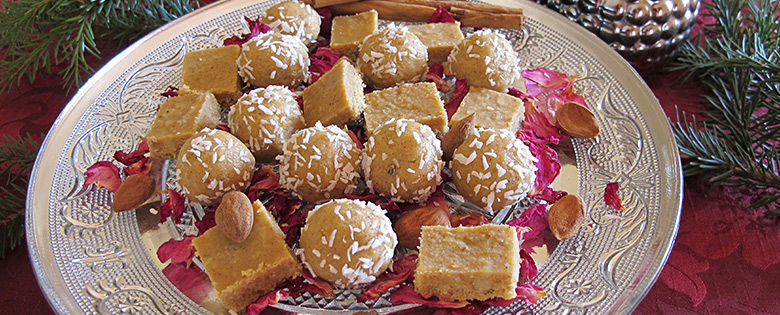 Shri Ganeshas Sweet Laddus
Melt the butter and ghee in a thick bottomed frying pan, using a low heat. Add the chickpea flour and stir with a wooden spoon.
After 15 minutes of continuous stiring the flour should be sufficiently roasted that a nutty aroma flows out. Now add the grated coconut, chopped almonds and ground cardamom (or cassia). Roast for another 2 minutes, mixing the ingredients well. Remove the pan from the heat, add in the powdered sugar (or Sharkara), mixing thoroughly. Use a fork to press out any lumps until you have a smooth mixture. Put to the side for a few minutes for it to cool down.
When the mixture is cold so far, that you can touch it, moisten hands and form 12-15 walnut-sized balls.
Variation: You can also spread the mixture on a baking tray and cut it into diamond shaped pieces after cooling. Instead of almonds, try chopped walnuts.
Laddus can be kept in the refrigerator for up to a week.
Laddus decrease Vata and Pitta dosha, but increase Kapha.
Recipe of Ayurvedic star chef Frank Lotz. Other recipes in "Heavenly Cooking with Ayurvda". Available here.
Preparation time 30 Min.
(Cooling time 1-2 hrs)
Ingredients for 6 persons
200 g butter
150 g ghee
400 g chickpea flour
4 Tbsp chopped almonds
2 Tbsp grated coconut
250 g powdered sugar (alternative Sharkara)
1 tsp cassia or cardamom