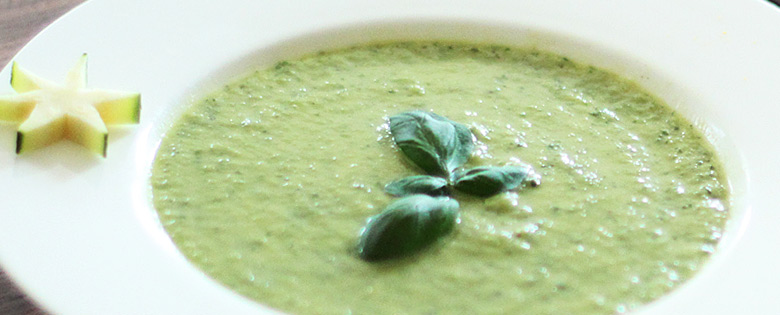 Zucchini and basil soup
How many times in the past have you set out to prepare something fresh and then not done it due to lack of time? Why not try a zucchini-basil soup. Simple and quick to prepare; fresh, healthy and delicious! This juicy green, gentle soup can be done even in your lunch break when you have to 'rustle something up quickly'
Wash and clean the zucchini, and chop into cubes. Put the ghee in a large saucepan and fry the zucchini cubes for 5 minutes.
Now add the water, pepper, nutmeg, salt and Vata Churna, and simmer for 5 minutes.
Cut the stems from the basil leaves, wash and coarsely chop and add to the vegetables.
Finally, puree the whole thing, and stir in the cream.
Season with salt and Vata Churna.
Tip for people with large appetite: you can add to this delicious soup a slice of toast with ghee or cream cheese.
You don't absolutely need to add in the cream, it's just there as a finishing touch.
(Taken from: Ayurvedic Cooking by Dr. Karin Pirc and William Kempe)
Ingredients (4 persons)
1 kg zucchini
1 tablespoon ghee
650 ml hot water
1/2 teaspoon ground black pepper
2 teaspoons grated nutmeg
1/2 teaspoon salt
1/2 teaspoon Vata Churna
1 bunch fresh basil
2-3 2-3 tablespoons cream