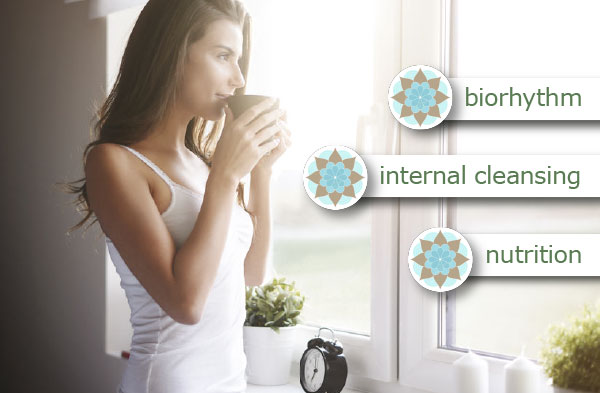 With spring comes the Kapha season
Change is all around: The biting cold of winter is giving way to higher temperatures, and everywhere the first spring flowers are waking up from their winter sleep. After the snowdrops start to awake, the crocuses, daffodils and tulips rise with their colourful splendour and announce the change of seasons. All these are signs of the beginning of the Kapha season, which from an ayurvedic point of view goes from March to June.
Prompted by the cold and heavy foods during the winter months, Kapha has increased quite a bit. As a structuring principle, Kapha stands for characteristics such as cold, liquid, heavy and tough. Many people now feel the Kapha dominance as a burden of additional pounds. For others, less noticeable metabolic ballast has accumulated during the winter months.
With the rising temperatures, the Kapha in nature and in our body dissolves and liquefies. From an ayurvedic point of view, wetness and rain are proof of this as well as runny noses, wet coughs and hay fever.
The common spring fever, which Kapha types suffer from in particular, is considered in Ayurveda as a consequence of Kapha dominance.
Accordingly, in spring it is now important to maintain Dosha balance during the change of season. The ayurvedic seasonal regimen, Ritucharya, teaches us how. We have compiled the most important advice for the Kapha season so that you can enjoy spring fresh and energised.
Follow the biological rhythms
We remain especially well-balanced if we follow the biological rhythms of the seasons and the corresponding Doshas. Light, day length, temperature etc. are important pacemakers that help us keep our mind and body in sync with the rhythm of nature. This not only goes for the seasonal rhythm, but also for our daily rhythm.
Along the same lines as the shift from winter to spring, every morning at 6 a.m., we experience a transition from Vata to Kapha. In this sense, spring can also be considered the dawn of the year.
According to the awakening day, Ayurveda suggests waking up at the latest at the end of the Vata time at 6 a.m. without an alarm. Those who go to bed no later than at the end of the evening Kapha time (i.e. before 10 p.m.), as suggested, will also have an easier time getting up early. With this daily rhythm you will support the inner rhythm of your mind and body, which will help you be in harmony with yourself and nature. This support is especially important during the Kapha season and will help you get through spring without excessive fatigue.
Time for inner cleansing
Use inner cleansing measures to help your body release the accumulated Kapha.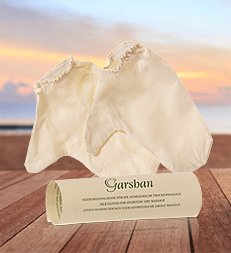 No matter how many of these suggestions you implement, each individual measure will help you effectively master the change in seasons.
Use products suited to the Kapha season
At this time use ayurvedic products the components of which precisely match the requirements during the Kapha season. Each of the products contains immense ayurvedic know-how that, thanks to modern production methods, are easily obtainable for everyone. The following are examples of ideal companions for the Kapha season: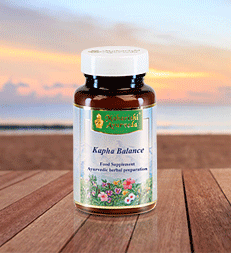 Products for Kapha types
Kapha types often suffer particularly from spring fever and other symptoms that accompany the Kapha season. You're a Kapha type? Then indulge yourself now in care products created especially for your Dosha type: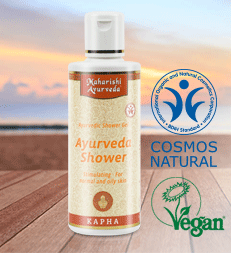 An overview of suggested Maharishi Ayurveda® Kapha products is available here.
Stimulating scalp massage for the "crown of one's personality"
Precisely during the Kapha season, marked by things being dissolved and moved, many people value a stimulating scalp massage. In the opinion of Ayurveda, regular oil massages before washing your hair improve circulation in your scalp and strengthen the roots of your hair.
In the ancient ayurvedic manual, Charaka-Samhita, Sutr. V 81-83, the scalp massage is praised as follows: "Those who regularly oil their scalp with sesame oil will not suffer from headaches, baldness, greying hair, nor will their hair fall out. The scalp and forehead will be notably strengthened. Hair will become black, long, and have deep roots. The senses will work well and the facial skin will glow. Applying oil to the scalp promotes deep sleep and happiness."
So treat the "crown of your personality" – in Ayurveda that includes namely your scalp – twice per week before washing your hair with a soft massage. To do so, first slightly warm some oil in your hand, then softly massage you scalp.
Keep adding some more oil to your fingers. It is best to let the oil sink in for 1–2 hours and then wash it out with a soft shampoo. A wonderful stimulating feeling for your hair and senses!
It is best to choose the massage oil based on your hair or Dosha type:

Based on old original ayurvedic formulas, each of these hair oils contains an ayurvedic herbal blend suited specifically to the respective Dosha type, as well as healing sesame oil.
Warmth
Don't let the first sunny day tempt you to wear overly light clothing. During the Kapha season, warmth promotes our wellbeing. That goes for clothing as well as nutrition (e.g. Kapha tea).
The right food for the Kapha season
Kapha types especially should watch what they eat right now. Foods should be light, dry, and warm.
Fresh green vegetables such as various cabbage types, spinach, chard, arugula and chicory are ideal for light spring cooking. Your meals will be even easier to digest if the vegetables are lightly steamed or braised. However, long-chain fatty acids and animal proteins are hard to digest and shouldn't be eaten very often.
Ginger and black pepper stimulate your Agni digestive fire and spread inner warmth. Both also reduce Kapha – as do asafoetida, garlic, turmeric and cumin – and are thus ideal for spring dishes. Accordingly, Kapha tea with ginger, cloves, black pepper, turmeric and saffron is an excellent source of warmth for this time of year.
Cooling and Kapha-promoting foods such as milk products should only be consumed sparingly in the spring.
Since our digestive fire is weakened in the spring due to an excess of Kapha, it is now especially important to consume our main meal at a time when our Agni is strongest. You should therefore eat your main meal at noon, and in the evening only a soup, for example.
There are some interesting food supplements that suit this time of year and correspond in particular to your body's needs during the Kapha season. This includes, for example, Kapha Balance (which has already been mentioned), Meda I for individuals with a normal appetite, Meda II for those with increased appetite, and Prana Rasayana for those whose airways were stressed by the cold.
Kapha tea is especially suitable (1-2 cups per day) for the Kapha season. A hot water drinking programme of 2 to 3 weeks is also highly suggested.
To find out more about nutrition during the Kapha season, read our tips entitled "Fit through the Spring".